SCHEMATICS FOR DAU-9P (MBUS) - NOKIA DATA CABLE

Other project [Lithium Charger][Nokia Cable][USB Charger]




The Component
To use MBus interface we need only add a 4148 diode between RX and TX and get a new cable from RX to connect it to PIN 6 in phone connector.
To get phone connector use a handsfree portatil (not nokia original, because it's too expensive) and cut connector. Be sure that it's not thermo-sealed and it uses all pins.
I recommend you to use Max3232 version, because using Max232 comunication with phone using FBUS (Data Suite) sometimes may be failed.
Component list:
Max3232 Version

Max232 Version

3x 4148 Diodes
3x 4007 Diodes
1x Voltage regulator 78L05
2x Ceramic Capacitors 100nF
4x Electrolitic Capacitors 1 microF
2x Zenner Diodes 2V7
1x I.C. MAX3232
1x Female 9 pin serial PC conector
1x Conector phone

3x 4148 Diodes
1x Resistor 1k
1x Voltage regulator 78L05
2x Ceramic Capacitors 100nF
4x Electrolitic Capacitors 1 microF
2x Zenner Diodes 2V7
1x I.C. MAX232
1x Female 9 pin serial PC conector
1x Conector phone
The Board
MAX232 version: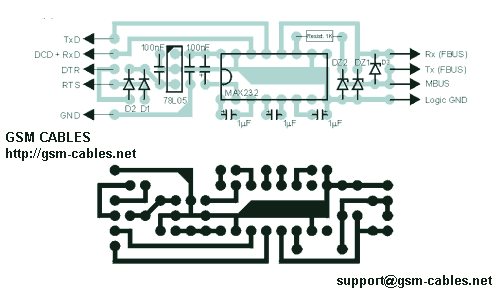 MAX3232 version: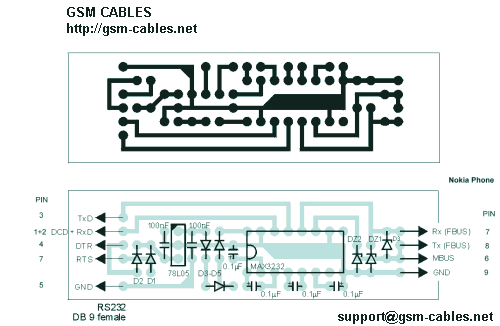 The Pin on Nokia

Charger input voltage
Charger control PWM
Mic input
Signal ground
Ear output
MBUS 9600 bit/seg.
FBUS-> RX
FBUS->TX
Ground
If you don't want endanger your phone, you can buy a cable to :